Northern California Elopement Guide
Elopements and intimate weddings are truly important to me because mine was a very traditional wedding, which, to be honest, didn't feel like "us". If we could do it all over again, knowing what we know now, we would love to have an intimate ceremony at a location in Northern California like the ones I've listed for my readers in this post. They are just so beautiful, memorable, and would probably make you feel a certain way that you'd love to say, "This is so us". Also, since I'm an avid traveler myself, I have been to all of these places and personally recommend them to my readers. Without much ado, let's take a look at these cool elopement and intimate wedding locations in Northern California.
Amazing Locations To Elope In Northern California
1. Yosemite National Park
Yosemite is one of the most famous, gorgeous, and oldest national parks in the world. From wildflower-covered meadows, deep valleys, and centuries-old giant sequoias to the majestic mountains, expansive wilderness, thundering waterfalls, miles long canyon, Yosemite has it all. It has a chapel and a ceremony locations list for you to choose from. You can get a permit for your chosen site and celebrate your big day while enjoying the most spectacular views. However, mobile networks can be an issue, and pets aren't allowed at any of the locations. Also, drone photography is prohibited.
2. Redwoods National Park
This breathtaking national park is actually a group of four temperate rainforests located along the coast of Northern California. If you love those tall trees and gorgeous greenery and want to embrace the rustic vibes on your special day, Redwoods can be the place for you. It is easy to get a permit for your wedding here. Also, no special permit is required for photography. To learn more about the application process, you can click here.
3. Lake Tahoe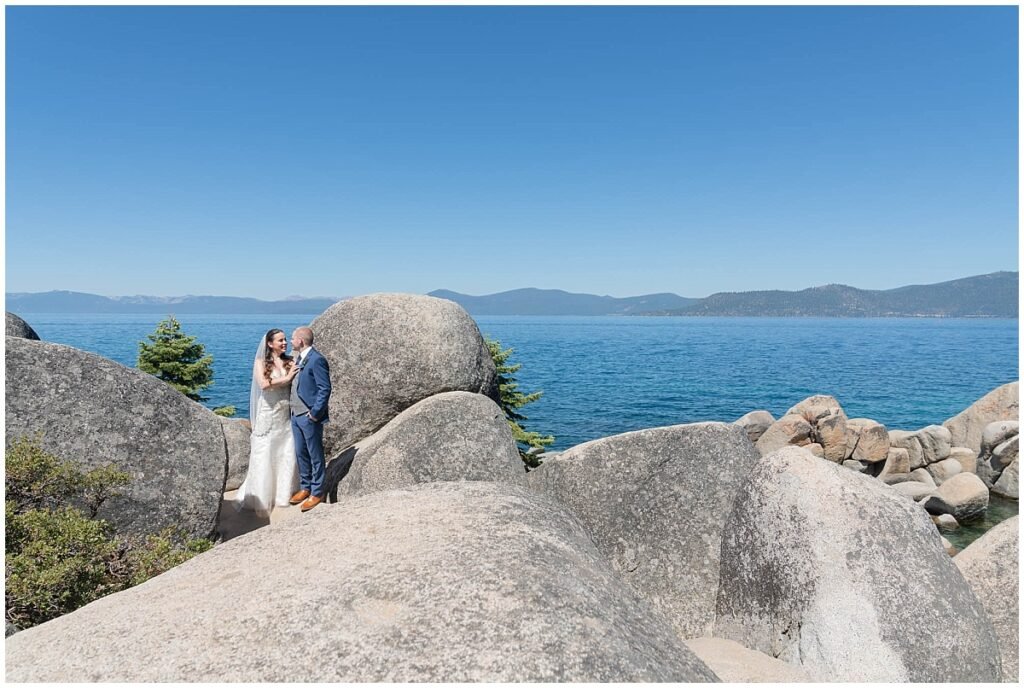 Lake Tahoe is a large freshwater lake in California and home to some top-class wedding venues and fantastic mountain hotels with dreamy backdrops to offer for your photography. It can be perfect for a couple who loves a mix of natural beauty along with some luxury. From mountains around, an ethereal night sky, and an old-world charm, couples can experience it all at Lake Tahoe.
4. Big Sur
If you're all in for rugged beauty and untamed wilderness, Big Sur, which is located between Carmel and San Simeon, can be the perfect elopement venue for you. Between the steep slopes of the Santa Lucia Mountains and the Pacific, this location has small beaches and some amazing inns and restaurants. You can also enjoy camping, whale watching, hiking, and beachcombing in Big Sur.
5. San Francisco
Do you love city life and want that to reflect in your wedding photos? San Francisco will give you the big city feel with a variety of cuisine options and things to do. From cultural to commercial centers and waterbodies to beautiful parks, couples can enjoy it all in San Francisco. Wedding venues in this amazing city will give you the best of architectural aesthetics and rustic vibes.
6. Point Reyes National Seashore
If you like the coast and salt water, crashing waves, sand, or rocks, Point Reyes National Seashore would be a good fit for the breeze in your hair. Couples must reserve a permit at least three months in advance for their big day. From clubhouses, ranches, and expansive estates to luxury resorts, couples can celebrate their love and union in any of the amazing venues that the Point Reyes National Seashore has on offer.
7. Napa/Sonoma Valley
From wineries, ranches, and private estates to a riverside resort, the Napa/Sonoma Valley wedding venues have some of the most beautiful wedding destinations to offer to couples. You can get unmatched outdoor settings in vineyards, gardens, and lawns that have the most spectacular mountain views. Also, the Napa/Sonoma Valley is quite popular for weddings and that's why you might find it to be a little on the pricier side. However, from my personal experience, I can say that it's totally worth every moolah.
8. Mount Tamalpais
If you're keen on celebrating your wedding at a dreamy venue above the clouds, this peak in Marin County can be a perfect location for you. Couples who love adventures and would want to have an intimate wedding amid sublime mountain views could give this location a shot. Also, the sunset views here are amazing! Mount Tamalpais offers hiking, cycling, picnicking, and horseback riding and also has the most refreshing vibes.
9. Mammoth Lakes
The Mammoth Lakes in California provides its couples with panoramic views of the alpine lakes, exposed granite cliffs, towering pine trees, and the Mammoth Mountain. All of this can serve as stunning backdrops for photography at your dreamy mountain wedding. Also, you can indulge in mountain biking, golfing, fishing, snowboarding, skiing, and other activities that are seasonally available and can be highlighted as part of your big day.
10. Sequoia National Park
Cool hikes, beautiful lookouts, and massive redwood trees – if that's what your heart desires for your special day, you can consider Sequoia National Park to host your event. It is located in the southern Sierra Nevada east of Visalia, and eloping here would be nothing short of a magical experience! From amazing banquets to aesthetically designed lodges, this location has it all, and you can enjoy the most rustic environment at Sequoia. This location does need a wedding permit and applying for it is pretty easy.
11. Monterey Bay
The last one on the list but not the least is Monterey Bay. If marine life entices you, you can consider this location for your wedding day. Located on the California coast, south of the San Francisco Bay Area and San Jose, Monterey is home to many species of marine mammals such as sea otters, seals, bottlenose dolphins, and humpback whales. It also falls on the migratory path of many beautiful bird species, making this spot even more special. You can read more about this amazing location in this article!
Celebrate Your Special Moments With Azaria Chavira Photography
Sharing my experiences and the tips that I've learnt over the years as a wedding photographer with you all here makes me super happy. I love playing my little role in making your wedding day more memorable than it already is. And, there's no doubt that a great location could add to the charm of your special day. With that being said, I hope my recommendations would be helpful for you in finding the location that is ideal for your wedding day in Northern California.
Also, if you or someone you know is looking for a wholesome wedding photography experience, you can contact me right away! In case you have any questions, you can drop me an email. To see more of my work, you can visit my Instagram, Pinterest, and Facebook.