Landscapes make for an interesting subject, frame, and backdrop! And being a nature lover myself, I always try to blend these elements into the wedding photographs of couples who adore the ambiance of an open sky, the smell of fresh air, and a hint of everything countryside. So if you are two people who are madly in love planning your elopement or intimate wedding but can't seem to decide on a location, you are at the right place! Moreover, if your hearts chase adventure and defy the conventional ways of getting married, the possibilities are endless! But, if you just can't seem to think past the ideas of farms, beaches, and hillsides, these 12 unique location ideas could help you find the perfect spot to say "I do"! If vineyards, gardens and forests are what you're leaning towards check out my 7 Ideas To Find The Perfect Location.
12 Unique Wedding & Elopement Location Ideas
1. Waterfalls
Getting married in front of a cascading waterfall, now that's a stellar view! Not only does a waterfall naturally make for a stunning backdrop, but it also calls for some fun! With water, mist, and some greenery in the vicinity, waterfalls paint a picture of a scenic setting. Moreover, if you get the timing of the day right when the sunlight hits the gushing water, it could create a dreamlike ambiance.
2. Desert
Not a fan of green background? You could give deserts a try for your wedding location! If you are in love with the classic appeal introduced by the golden tinge and the never-ending sand dunes, and you don't mind the Sun, deserts could be a fun location for your elopement or intimate wedding. Moreover, such locations call for some really sweet sun-kissed moments that you can all gush over later on Instagram!
3. Columnar Basalt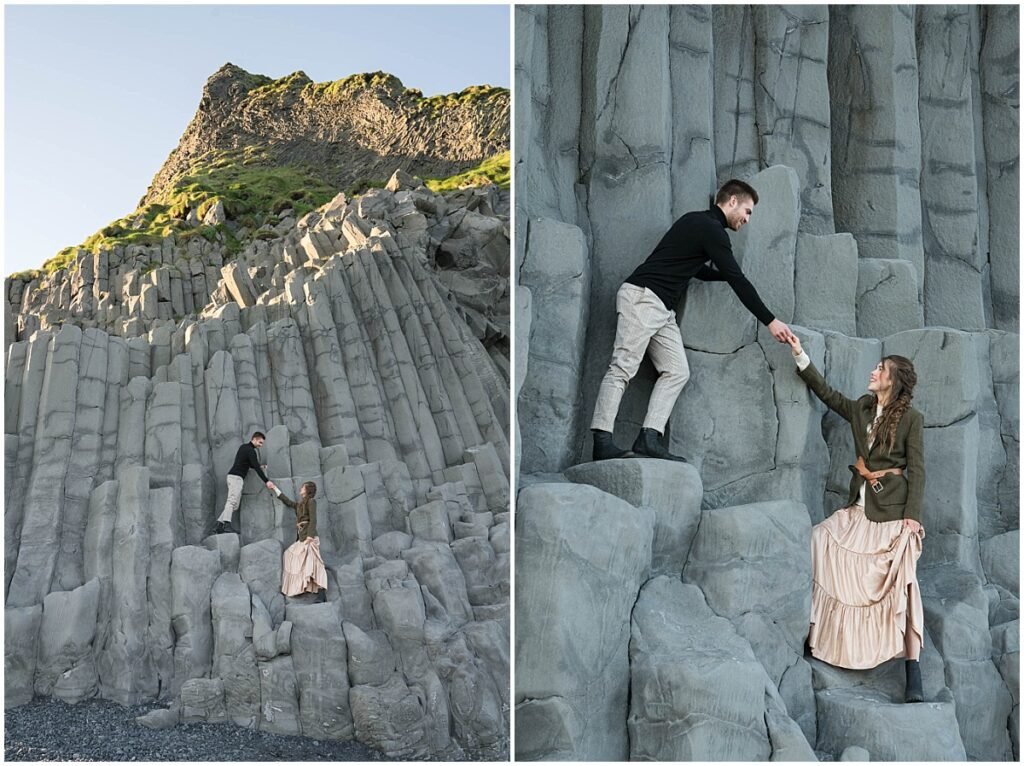 Okay, before you raise your eyebrows on choosing a columnar basalt as a location of your choice, I would like to draw your attention to this adorable photo of a couple's elopement! It's sweet, simple, yet unique in the most interesting ways! You could also go for a similarly edgy, adventurous vibe.
4. Sand Dunes
Whether you are walking up a sand dune hand in hand with your partner, running down, or simply posing on top of it, sand dunes can not only introduce a sense of adventure but also fun and amusement. The cherry on top? Those rippled heaps of fine sand make for gorgeous backgrounds in the photographs.
5. Canyons
Canyons are a no-brainer! Their contrasting vistas can make for a stunning backdrop for your adventure wedding photographs. Especially, if you don't mind a bit of sun and love hiking. In addition to offering breathtaking cliffside views and an adrenaline rush, canyons can weave together a surreal wedding experience that is more authentic, personal, and intimate. Moreover, if you are a bride who'll love to choose shoes over heels any day, canyons and you are a perfect match!
6. Salt Flats
The salt flats of Utah are on the bucket list of many travelers and photographers. Especially on a day when a layer of water forms over the salt flats, it creates an illusion of a giant mirror. What's more, the water reflects the color of the sky. So during the golden hour, it just turns into a surreal place!
7. Lava Fields
Lava fields in Iceland make for yet another unique location idea, an unconventional choice, and a brilliant photography location. Thanks to the diverse geography of Iceland, it is striking how you can simply drive through changing scenery. Thus, providing you with location options as unique as lava fields!
8. Glaciers
Spectacular scenery, surreal backdrops, and a call of an adventure – glaciers hear your calling for all! In addition to that, the dominant blue and white in the glaciers' background make the colors pop and stand out. If a sweet, intimate winter wonderland wedding is what's on your mind, they can be an excellent choice of location!
9. Sea Cliffs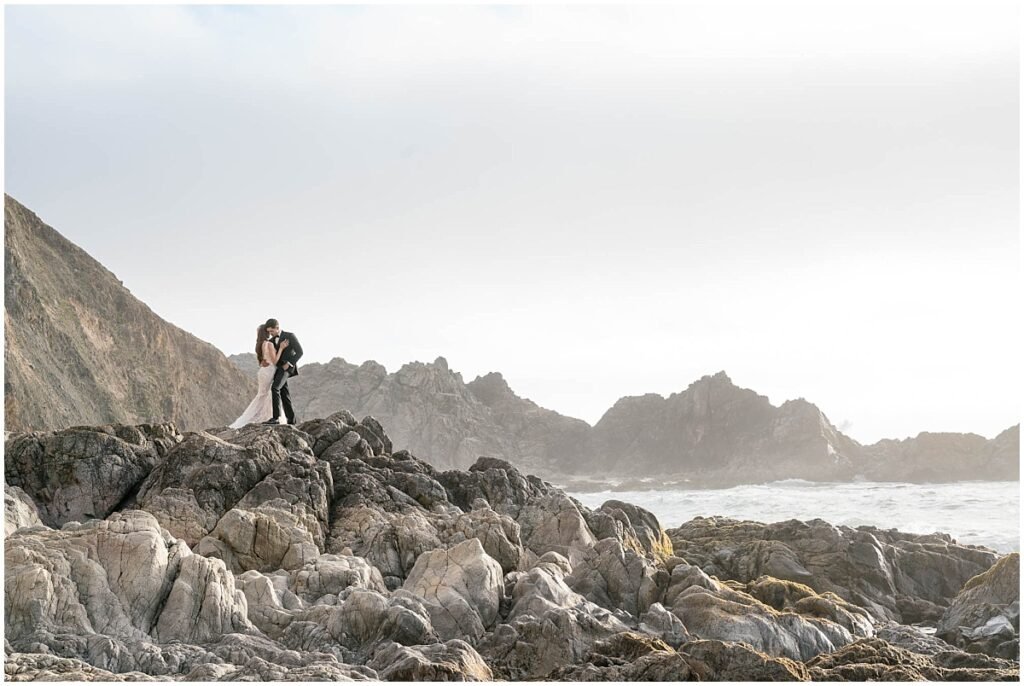 Sea cliffs are a popular choice of place for engagements, elopements, intimate weddings, and some adventure. They are also one of my personal favorite choices. Those dreamy shots of couples striking a dramatic pose alongside a picturesque background – yep, sea cliffs can add that magic to your wedding images.
10. Geysers
If you and your partner often find yourselves in awe of nature's mysticism, setting on a nature walk to witness geysers sprawl water in their absolute glory could be the grand spectacle you wish to see on your special day. However, to make the most of this location, getting the timing right will play a major role!
11. Hot Springs
Love relaxing in hot springs? Who says your special day can't be planned around just that? Northern California is home to some of the most amazing hot springs – Vichy Springs Resort, Wilbur Hot Springs, Orr Hot Springs, and Sykes Hot Springs (Big Sur), to name a few!
12. Black Beach
Beaches are another popular choice for elopements and intimate weddings, even more so if there is something that makes a beach stand out! And Black Sands Beach in Iceland is no different! Thanks to black sand, this particular beach paints an unusual yet very dreamlike picture. The white of the foamy waves crashing on the shore wraps the dark sand in an embrace time and again, contributing to the awe-inspiring view.
Celebrate Your Special Moments With Azaria Chavira Photography
Deciding on your wedding location could be a tough choice to make! After all, the setting you choose for your big day should match your personality and add to your story. And I, being an elopement and intimate wedding photographer, completely get that! Therefore, I curated a list of ideas that might help you decide on a place that resonates the most with you and your aura! California, Iceland, Utah, and many other states and countries offer great places that are worth a look. I hope you found these recommendations helpful! While some of the destinations might seem odd to pick or look like out of your reach to choose, but trust me – they're worth the effort in the end.
Hola, my readers! If you or someone you know is in search of a wedding photography service that'll not only capture your special moments but also offer a wholesome experience, feel free to contact me! To see more of my work, you can check out my Instagram, Pinterest, and Facebook.