Elopements are beautiful! They make for an intimate and private celebration that gives couples more time to themselves and helps them soak in their special moments, feelings, and emotions without much of a distraction or chaos typical of a wedding day. Elopements are important to me, and for many couples, they make for an amazing way to get married. However, for many others, the main hurdle when deciding on whether to go for an elopement or a traditional wedding often arises due to a lack of understanding of what an elopement is or what options they have when it comes to eloping. I see many couples – either on the fence or worried about where to start – bear false notions while planning an elopement. So, to help them and everyone else reading this, I've shared a list of elopement myths and tried busting misconceptions around elopements – and explained what couples could actually expect when going for an elopement. This list will help you get to the nuances of different kinds of elopements and clear any confusion you might have while planning one. Let's get started!
Top Elopement Myths & Misconceptions
1. Elopements Are Not As Authentic As "Real" Weddings
Elopements are REAL weddings, just done the way YOU want them done, instead of blindly following the same traditions that everyone else feels forced to follow. This means most elopements are actually MORE special since you are highlighting the things that are important to you on your day and making the day about your marriage and bond of love rather than about entertaining a lot of people.
2. Elopements Are Only Meant For The Couple
Just because an elopement is small and personal doesn't mean you can't have people important to you in attendance. Some couples decide to have their elopement in absolute privacy, while others want to be accompanied by their closest family or friends while still keeping it intimate and private. You don't have to feel guilty about anything. It's okay to choose any of the two.
3. Eloping Is Selfish
Your wedding day is about you and your marriage. Deciding if you want to include a lot of people in your celebration or make it a small and intimate ceremony is a decision for you and your partner to take and nobody else. It is YOUR day, so making it about what is important to you is what is truly important. That is anything but being self-centered.
4. Elopements Don't Have Room For Any Classic Wedding Traditions
One of the best things about elopements is that you get to decide the traditions and activities that you want to include in your ceremony and make it part of your big day. You can have "traditional" customs such as "something old, something new" as well as make your own traditions such as wearing matching shoelaces.
5. You Have To Have A "Clergy" At Your Elopement To Get Married
Church clergies are not the only people permitted to officiate a wedding or elopement. Any certified officiant can preside over your ceremony. Many couples are not members of a church or do not have someone available to do their ceremony. So, if you want to elope and choose me as your photographer, my husband is a certified officiant whom I can offer to preside over your elopement so that you don't have to search for one.
6. Elopements Are A Courthouse Affair And Lack Romance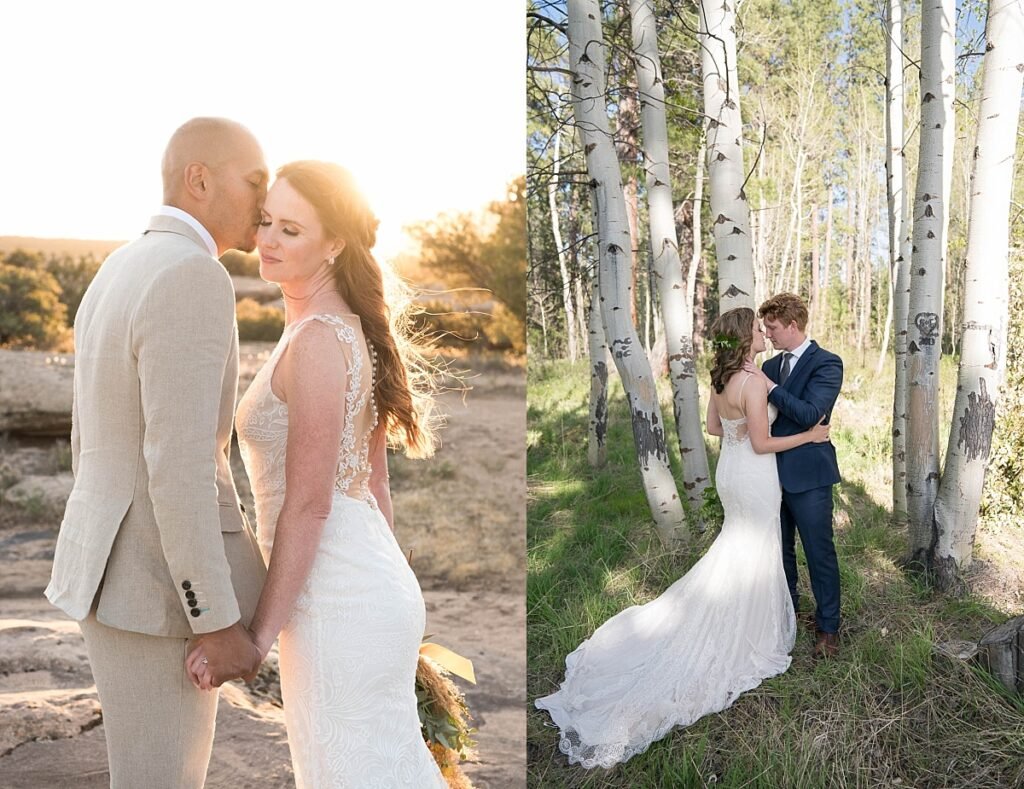 Some couples opt for the quick courthouse option because they don't want any of the extra frills. But that doesn't mean all elopements have to be like that. Your elopement could be anything from just the two of you exchanging your vows surrounded by the wilderness on a hike to a small gathering of your closest friends on a beach as the sun sets on the horizon. And there could be so much more in between! You can make your elopement as romantic and exciting as you want.
7. Elopements Are For Adventurous Couples Or Hikers To Get Epic Views
There are so many beautiful locations to have your elopement, and many of them require no hiking at all! If you are a couple that doesn't like hiking or doesn't want to do it on your big day and might enjoy the city more, working with an elopement photographer and planner can help you find the location that best suits your needs. Figuring out what type of environment you want to be in, how far you want to travel, and what kind of day you want to plan are the things that an experienced elopement photographer like me would be able to help you with!
8. Elopements Are Super Quick
How long your ceremony depends on what you want to do for your day. But the ceremony is only a part of your day. Photographing your special occasion and celebrating your togetherness through a fun activity such as hiking, having a beer, or sitting down for a picnic will take time. Don't dismiss your special occasion as a quick activity to be done and over as soon as possible. It is your day to cherish, so soak in the atmosphere and enjoy it. Chalking out a plan to get all of these things arranged so that you can be fully present and enjoy your special day when it arrives is also important.
9. Elopements Are Budget Events
While you can have an elopement for a lot less than what many people spend on their weddings, how much you will spend on it is entirely dependent on what you want to do and what is important to the two of you. Most couples still want to pay to have an experienced photographer capture their ceremony and adventure as a new couple. And while you may decide that many of the wedding traditions aren't for you, you might still want to get a wedding dress and have professional hair and makeup done.
10. Planning Elopements Is Super Easy. Why Waste Money On A Planner?
Planning weddings and elopements CAN be easy – if you know exactly what you want and where to look for it. But for most couples who don't have any experience planning a wedding, be it for a family member or friend, it can mean a lot of work. They'd need to figure out exactly what they want, and where to begin to look for vendors, pricing options, and locations, which can get so overwhelming. Having a planner that knows good locations and has contacts for vendors can help you figure out what to expect and can help you establish your elopement day timeline. That way, the stress of making sure things are in place will be lifted off your shoulders and you'll be free to just sit back and enjoy your day!
Azaria Chavira Photography For Your Gorgeous Elopement
With all those realities to the elopement myths & misconceptions put forth for you here, I'm positive that you'll now have a better understanding of what you can expect and do if you choose to elope. Though many couples do have a certain idea of what an elopement is, they don't realize just how customizable it can be. And that's when I tell them that the most important thing to remember when planning an elopement is to prioritize and know what is important to them. So, discuss with your partner, list down your preferences, and streamline your wedding vision. If you get stuck while deciding on the vendors you should hire for your elopement or intimate wedding, I've got you covered for that too. Just read this blog and get your answers.
To all my readers out there, if you or someone you know is looking for an elopement photography experience, you can contact me! Intimate weddings and elopement photography are my specialties. To see more of my work, you can check out my Instagram, Pinterest, and Facebook.