Despite my couple canceling their wedding in Lake Tahoe because of the pandemic, they always wanted to have this beautiful lake as a background in their photos. So we opted for a Sand Harbor Elopement photo session instead.
Reasons for you to have a Tahoe Summer elopement too!
As an engaged couple in the process of their elopement planning, deciding the location of your ceremony is a major decision to make. Being able to say "I do" wherever you want to can open up so many options it can become overwhelming. There are so many unique and amazing ideas to best represent your love on your day. I recommend thinking about a lakeside elopement at the Sand Harbor for a relaxing yet adventurous experience. Here are some of the reasons why you should include this gorgeous place on your list of locations to consider.
Perfect spots for your Sand Harbor Elopement
The Sand Harbor in Lake Tahoe Nevada State Park can offer you the best spots for a great view of the picturesque waters. You can have a lakeside elopement to have the vast sparkling lake as your background or choose a spot surrounded by boulders in the water. You can also go into the woods or say your vows on one of the lovely trails created within the park. And if you think it can't get any better, eloping on a beach inside this park is also an option.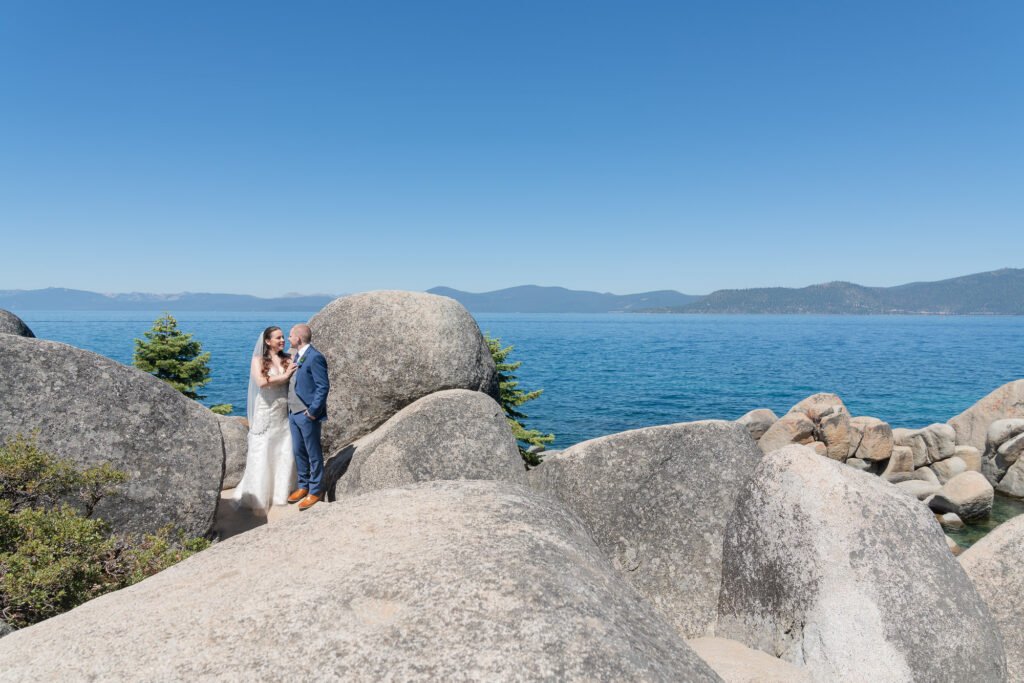 Sunrise or Sunset Lake Tahoe Elopement
Once your location is decided upon, choosing between a sunrise or sunset Lake Tahoe elopement is next. Both offer a different kind of charm for your pictures and will solely depend on your preference. Sunrise will give you that subtle golden glow that will make your pictures so dreamy. You'd probably prefer this for a Tahoe summer elopement. At the same time, sunset makes everything more romantic. Somehow the already stunning view of Sand Harbor becomes more breathtaking as the sun sets. As a Tahoe elopement photographer, I also provide an all-day service to have a photo session at both sunrise and sunset. You can read more about this service here.
Turning our couple's Lakeside Nevada Elopement dream into reality
When it comes to decisions, I've never seen a couple so passionate to turn their dream of a Lake Tahoe wedding into reality through a lakeside Nevada elopement.
Our engaged couple had to cancel their wedding at Lake Tahoe because of the pandemic. Still, they wanted to have the majestic view of the lake on their wedding photos so when it was safe to have a Sand Harbor elopement photo session, we grabbed the opportunity with gusto. They wanted nothing but to be in this space to remember what they promised each other in their vows.
Elopement Planning Tips in Sand Harbor
Make sure to consider the following when planning for your special day.
The park opens at 7 AM and closes one hour after sunset every day.
The busy season for Sand Harbor is from Memorial to Labor Day. If you are planning for a session during this time, all arrangements will need to be booked well ahead of time and crowds have to be considered.
Ceremonies are permitted within the Ramada area. The area should be reserved and commercial permits should be obtained before the ceremony. You can contact the park for complete details of their rules and regulations or view more information here.
Need more help for your Sand Harbor Elopement?
As your Tahoe elopement photographer, I can guide you in turning your dream of eloping in Sand Harbor into a reality. I also created a complete Lake Tahoe guide for more options. Just head over to my contact page so we can start planning right away! I'm so excited to be a part of your special day!